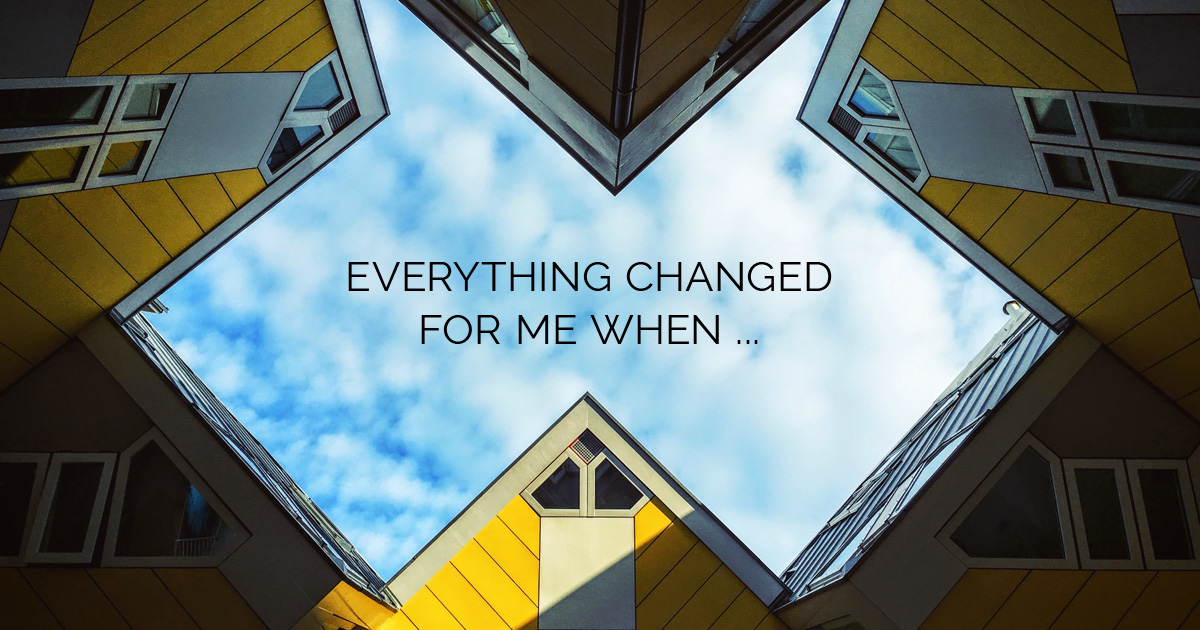 I often get emails from readers when they've reached a crossroad in their life: they've been made redundant from a long-term job, are suddenly faced with an empty nest, or a relationship has ended. It's a point where something that has previously defined them has now gone.
These are not fun times.
And yet – they represent an opportunity too.
Usually, up until that point in time, the life of the person writing to me has been defined by the needs, hopes, dreams and/or expectations of others. Or defined by practicalities; the need to make money to support their families for example.
Now – a world of possibilities has opened up. This is both thrilling and terrifying.
I've tried several times to write something that would be useful to these people but everything I've written to date has just sounded trite to me.
Then, yesterday, when I rooting around in my inbox archives I came across an old post that was lost in the great server crash of 2015. It summarised a discussion on my Facebook page where I asked people to finish the sentence:
Everything changed for me when …
The answers people gave about these 'crossroad points' in their lives were very human, poignant and inspiring. I hope all of you reading here today can take something useful away from it x
———
This question should be asked in every interview to every person ever:
Everything changed for me when …
It was asked of Elle Roberts here and I just loved her answer:
I stopped listening to other peoples' version of success, and started believing in my own.
Elle's thoughts, of course, prompted me to both reflect on what my own answer would be … and to ask my Facebook community the same question.
Now for me, everything changed when I listened to the podcast mentioned here because it showed me I had no idea what I really wanted from life. And if you don't know what you want, then you're just going to meander along, letting the universe take you for a ride. This works for a lot of people but absolutely does not work for 'Little Miss Way Too Type A' me. I'm a big fan of the universe AND meandering, but I do need to know where I'm going!
Everything also changed when I read Quiet.The Power of Introverts. Unless you're an introvert at the far end of the spectrum yourself, you wouldn't understand what it's like to go through life being told both subtly and overtly by society that your personality is unsociable and uncool (ie sucks). And you wouldn't understand the relief I got from reading Quiet–from finally appreciating that it's ok to be me! This was life-changing to the max.
And finally, everything really changed when it seriously crossed my mind that the world would be better without me in it. That single thought shocked me to my core and thankfully set my feet on the path to where I am now … content.
So what about the people in my Facebook community? Well their responses were a heartbreaking and inspiring summary of the vagaries of life. You can see all the answers here … some I have reproduced below.
There were relationships that came to an end:
I bought a tiny puppy. His unconditional love gave me the strength to break free from abuse and while I had to give him up in the process, I maintain he saved my life. I saw him again recently and I cried.
Tamsin
I was 7 months pregnant with my first child and my marriage suddenly ended. I learned my own strength.
Angelique
My partner left me. Best learning experience, despite how difficult it was.
Hayley
When I left my husband, eight years ago. He's a good fella, and we have beautiful children, but he would get angry with my anxiety and shout at me until I "felt better". Sometimes I really miss having a nuclear family (especially because I don't see my kids every day), but I would never have felt like I could open up about my mental health if I'd still been fighting for acceptance in my own home.
Anna
There was adventure:
When I quit my job, sold our stuff, took our kids out of school and travelled the world for a whole year.
Tracey
The day I decided to sell all of my meagre possessions and move overseas – without a work visa or a plan. So glad I took that risk 17 years ago!!
Anj
The wonder and joy of motherhood:
I saw photos of the daughter we would adopt from China and fell instantly in love. We christened her 'the chunkster' but it turned out she was a little undernourished when we finally got to meet her 10 weeks later. Talk about a long labour (seeing her photos was like my waters breaking after an '8-year pregnancy' of infertility and the long adoption wait. Holding her in my arms for the first time? Well that was like the moment of birth, I imagine).
Kathy
When our third round of IVF was successful!
Tegan
I saw three heartbeats on the screen during an ultrasound and realised I was having triplets and instead of having a third child, I would instantly get a 3rd, 4th and 5th child!
Caitlin
When I had my daughter in 2000. My saviour and life.
Leisa
I had my first baby. Totally changed. On every possible level.
Cat
When I had kids.
Nicole
When I became a mum.
Andrea
Countered by the heartbreak and unfairness of infertility:
Everything changed for me when, after 14 years of hoping, I realised I had to come to terms with the fact that I'm never going to be a Mum. I can't tell you how it's changed exactly because I'm living it right now but I know my life will never be the same. It almost feels like I've gone to sleep one night living my life and woken up and started living someone else's.
Rachel
And unforeseen challenges
When my son was diagnosed with autism.
Susanne
My son was diagnosed with autism, things changed in good ways as well as bad.
Benison
I became a sole parent.
Dorothy
There was a lot of self-acceptance and self-awareness
Everything changed for me when I read this incredible book called The Element: How Finding Your Passion Changes Everything by Sir Ken Robinson. And indeed, it did.
Vanessa
I realised that I was the only person who could determine whether or not I was content. Life changing. Liberating. Freedom!
Tash
When I finally designed the life and career I always wanted, instead of the one society said I should be grateful to have.
Louise
When I attended my first networking event as a business owner and used my business evaluator pitch for the very first time and picked up my first two clients.
Kylah
When I realised I had no desire to climb the corporate ladder and that creativity is important to me. I've since written three novels, one of which is due to be published by Momentum (Pan Macmillan) later this year.
Belinda
When I decided I wanted to be happy.  I know that might sound trite, but I think it was as simple as that for me … the process wasn't easy–it took a lot of hard work–but one day I just decided I was sick of all my anxiety and worrying and just decided that my goal was happiness … mostly achieved by thinking positively, and learning to avoid anxiety triggers …
John
When I simply gave up!!! I stopped comparing myself to others, stopped trying to run with the Joneses, found that I can be happy, can be positive but only I can take the first step!!
Jodette
When I admitted to myself what I really wanted.
Jo
When I decided that living overseas wasn't for me and I came home.
Dannielle
When I returned from a visit with my sister in England with the courage to quit my job of 17+ years.
Fiona
When I decided to remove my social mask and be okay with who I am.
Jodi
I started living the life I wanted to live (rather than that of others' expectations).
Emelle
And finally, an indication of just how fragile life is:
When my fiancée was killed in a car accident many years ago and most recently when my brother took his own life this past February. Life is fragile. One minute you are here, in the present, with everyone else, the next minute you are gone. All may seem lost. However, there is hope in The Lord Almighty in his eternal promise of a future.
Nicole
When my partner and the father of my daughters passed away… Realising at 24 that I didn't know who I was or what my future held was scary. Learning to live without him and realising I wasn't who I thought I was and seeing the strength I had on the inside was life changing too!
Gabrielle
When my brother was tragically killed 10 months ago. My whole perception of reality was altered forever, and trauma prevented me from being able to do what I did before and be what I used to be. By the grace of God, I'm living with a shattered heart, and trying to pick up the pieces in the aftermath of events. This has made me a fearlessly authentic person. I have this strong resolve to be utterly true to myself, to live life like there's only half a day left, and to love. Love what I do, love who I do it with, and be gentle on myself. I don't believe in the whole 'happiness is a choice' stuff. It is just not that simple (well not in this current 'stage' anyway). Being positive is a choice. Happiness is of the heart, and if your heart is broken into millions–anyhoo. I'm not all doom and gloom. I thought I would never be genuinely happy ever again, but happy moments are becoming more frequent . And tragedy has also been a catalyst for a heightened creativity – both visual and written. I'm painting again and reclaiming my career as an artist, and have finally gotten around to starting my 'real life business' blog. I'm sick of nonsense, sugar coating, fake and the unattainable. So I tell it how it is.
Christall
So now it's your turn (once your mind comes down from reading the answers above). What's your answer the question: Everything changed for me when …
Image credit: Tim Gouw /unsplash.com