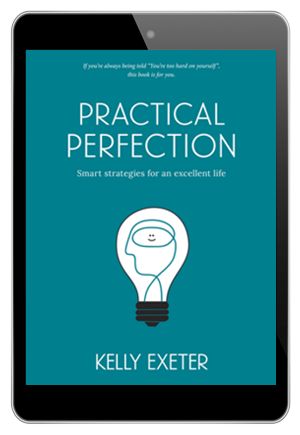 If you've ever been told "You're too hard on yourself" …
If you're especially prone to overwhelm and burnout …
If your perfectionist tendencies are holding you back from getting the most out of life …
Then Practical Perfection was written for you.
Five years ago, Kelly Exeter ticked all of the above boxes. Then she had a breakdown. While recovering from that breakdown she developed a framework for herself. One that stopped her burning out all the time. One that helped her stay on the right side of overwhelm. One that got her off the hamster wheel.
Practical Perfection shares that framework and shows how anyone whose self-imposed high standards are holding them back can live an excellent life. One where they:
Get to achieve what they want without constant stress and overwhelm.
Have time and space to be good to those closest to them.
Have time and space to be good to the world.
Have time and space to be good to themselves.
Get the PDF for $5.99 by clicking the button below