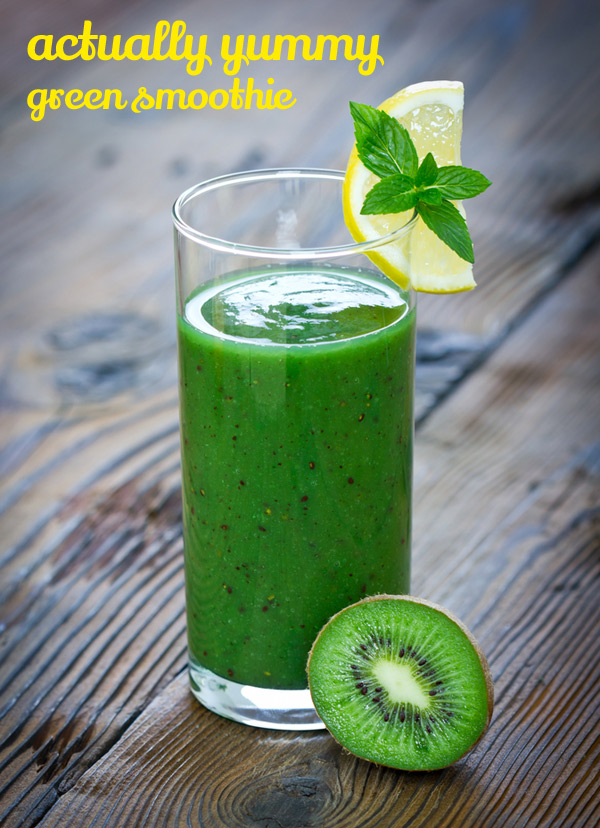 So Operation Stop Eating Toast is going fairly well. And this is mainly because I have finally hit on a green smoothie recipe that I like. For the most part I don't mind forcing something down if I know it is good for me, but gee I have plowed through (and forced down!) some fairly dodgy smoothie combinations before landing on this one.
If I can just figure out how to get my blender to blend the kale leaves into even tinier pieces, this would be even better.
Here's the recipe (makes one smoothie – I don't work in giant batches):

Chop up the following, throw it all into a blender … and blend!
A small handful of kale (of all the leafy greens, I find kale gives the nicest taste. I find spinach is too heavy)
Half a lemon
One-third to one-quarter of a cucumber
250ml coconut water
1 sachet stevia (you could substitute with honey if you like)
2 kiwi fruit
1 Green Smoothie Co powder sachet (not essential, but adds a lot of goodness to the smoothie – this one has wheatgrass, spirulina, barley grass, chia, coconut water powder, bee pollen)
And that's it.
Do you have a favourite green smoothie recipe? Can you suggest a way to get my blender to blend that kale into tinier pieces?!