20 Simple Shortcuts to Small Business Success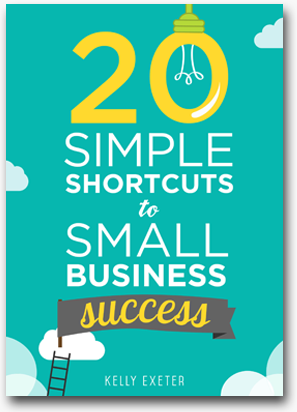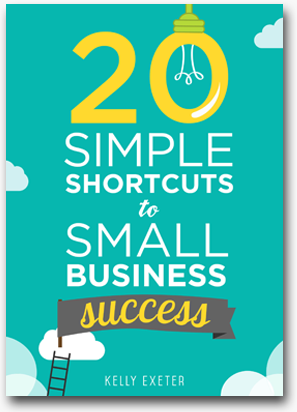 "I think it's one of the most effective, straight to the point, motivational business strategy books I have read. I would urge anyone feeling a little overwhelmed with their current situation to purchase and read this book. It will offer you an excellent, achievable starting point to get back on track - and fast!"
~ Melanie Gray
"Nice surprise: They ARE simple shortcuts! Easy to read, gets to the point quickly, and I know a bunch of these work from my own experience. Great advice!"
~ Ben McAdam
What does a successful small business look like?
After 10 years in small business Kelly Exeter came to the conclusion that it looked like this:
It's one that's both profitable, and also set up so the business owners have the emotional resilience to surmount all the challenges thrown their way.
Over the years she signed up for hundreds of courses and downloaded countless free e-books and resources. Resources that suggested she should:
Implement complex marketing strategies.
Spend absurd amounts of time developing products that may never sell.
Approach business in a way that was fundamentally opposed to my personal, professional or lifestyle goals.
None of those resources made her business more resilient or successful.
None of them made her business life easier.
Eventually, she realised she had to stop looking for magic bullets because they didn't exist.
What did exist, however, were shortcuts. Faster pathways to achieving the success she was looking for.
It took 10 years and thousands of dollars for her to figure out the shortcuts she shares in this book. Hopefully, you'll benefit from them much earlier in your business journey.
"I was expecting a dry business book and was surprised and so excited that it wasn't all business, but health and wellness too ... almost a life hack book as well as a business book. It made me want to keep reading and learning more. Love that!"
~ Virginia Johnson
"I just wanted to thank you for writing the book I needed to read. To be completely honest, I didn't intend to read it all the way through but it's so well written, so logical and so full of great advice that I read it in one sitting. I love that you've provided real, actionable strategies that I can use to help myself - I just need to work through my tendency to put off decisions so I can select the right element to work on first!"
~ Kirsty Russell
"Simple, easy to read with great actionable items that any small business owner can do! Loved it."
~ Michaela Clark
"A simple and practical guide to running a successful business and leading a healthy and happy life. I'm a huge fan of Kelly's writing and love her authentic and easy to read style! It is clear that these are real life tips from someone who has been in the trenches running a successful business."
~ Meryl Johnson
"As a busy micro business owner, I don't have the time to delve into hundreds of business books. This is the book that has all the essentials in one easy-to-read place. Kelly Exeter doesn't just talk the talk, she walks it every day."
~ Nikki Parkinson
"Genuinely helpful and actionable business advice without the fluff and filler. Well worth your time."
~ Marc Valentine
"I have been following Kelly for a little while and have recently become hooked on her Straight and Curly podcast, so I was excited when she released 20 Simple Shortcuts to Small Business Success. I particularly enjoyed the format of this book as it was in short, sharp, easily digestible chunks and she got straight to the point with her tested tips, rather than waffling on about theories. This is a great book if you really are looking for simple solutions to improve your business. Thanks Kelly!"
~ Rebecca McFarland
"Well worth reading for the introductory piece on developing the resilience needed to surmount business challenges that inevitably come your way in orde to understand what's important and what's not. Kelly has a knack of stripping away the complex and leaving us with practical, actionable insights."
~Bernadette Jiwa
"It was short enough to read in one night but the effects could be life-saving, life-changing and forever. Thanks for the inspiration! Such a likeable author - I hope to meet her someday."
~Stephanie Chambers