So I'm going to kick off today's post with the big news of this week: Zayn departing One Direction. Purely because I want a neat segue to the below.
An excellent piece on the community of 1D fandom by @mkruvant http://t.co/nWsCX2QzNy (via @doreeshafrir)

— Jane Howard (@noplain)
How accurate!
'Accurate' also being the reason I loved this post.
The author, James Greig, says "I like to think of writing as thinking in public", and that, (for me anyway), is EXACTLY what writing is.
Greig goes on to say that "writing can also help you to make peace with something that happened in the past. Anything that's made you distraught, angry or joyously happy will make for a great story. And the best thing is that sharing these experiences (as honestly as possible) will bring people closer to you."
So much accurate! Thank you x 1 million James. I love it when people take the thoughts in my head and get them down on paper.
Much like these guys did. And Woogsy.
This has also been a super week for quotables. Hat tip to Kathy for finding this one which was, again, accurate. And also to … me … for plucking this one out of Hal Elrod's The Miracle Morning.
And that's enough of other people's links I reckon because, for the first time in ages, I have some of my own to share. Specifically this one, which is pretty much one of my favourite things I've ever written (so please read it!) and this one which is the culmination of a conversation we had about wedding dresses on my Facebook page like, four months ago). I'm also here today sharing my five favourite things in the world.
Hope your Friday's been grand folks. Time for more super links via …
---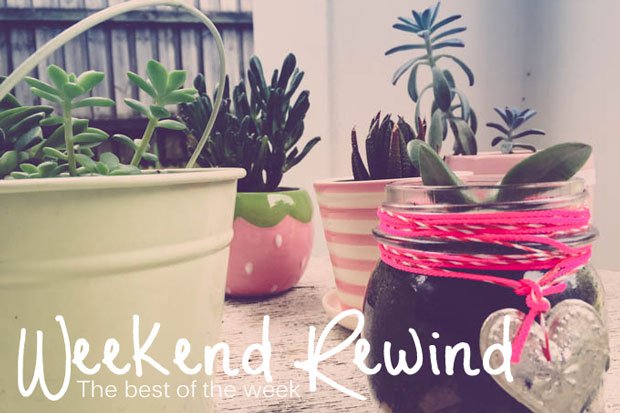 And yay, since it's Friday it's Weekend Rewind time with Bron, Sonia and Sonia.
Bloggers, why don't you link up your favourite post from the week just gone (it doesn't matter which of us you link up at, your post will be visible on all of our sites). Readers, why not check out some awesome blogs you may not have come across before.
This week's super cool guest Rewinder is Amanda from Cooker and Looker.
When Amanda started her blog in 2012 as a dare, she was as shocked as her high school English teacher to discover that she loved to write. Each post is a little sandwich of family life, food and humour, with a focus on fresh, easy recipe ideas that fast become family favourites. Her blog name, Cooker and a Looker, is a bit of an inside joke: at their wedding her husband joked that his footy coach had told him "You can either get a cooker or a looker, you can't have both". Amanda spends her days pretending she didn't just get up from the computer and thinks tea tastes better from her favourite cup.