Hello team! How has your week been? Mine's been a bit better than last week. There's a lot going on in Exeter-land at the moment but we are slowly (everrrrrr soooooo slowlyyyyyyy) clawing our way back to some semblance of balance. And for that, I am super-grateful.
The next big job on the agenda is getting my head around the fact that Ant and I are off to the Philippines for a conference in (OMG) less than three weeks. We're going to be gone for a week and the kids are not coming and I've never been away from them for so long and even though I've had seven months to get my head around it … that hasn't happened yet! But I am sure once we're there and having some much-needed time to ourselves I will get my head around it.
Right?!
On to this week's links. There are so many goodies here!
First up, let's talk about irony, a term people love to use incorrectly. (Which, I think, is ironic? Maybe? Who even knows anymore.)
Worried about what others think? What if they're not thinking what you think they are?
Tired all the time? Here's how to feel better.
Do you ever see someone get a lucky break and thing 'well that stuff never happens for me?' I loved this Jason Fried piece where he breaks down everything that lay behind a 'lucky break' he got.
Also loved this from my excellent friend Allison Tait asking about whether you're ignoring your best ideas.
Finally, do you love a good lifehack? Of course you do! There are 25 most excellent ones here! Hard to pick a favourite but I think I will go with this one:
If you work in a bar or in customer service of any kind …

… Put a mirror behind you at the counter. This way, angry customers who approach you will have to see themselves in the mirror behind you, and the chances of them behaving irrationally lowers significantly.
And that's it folks! Now it's Weekend Rewind time!
---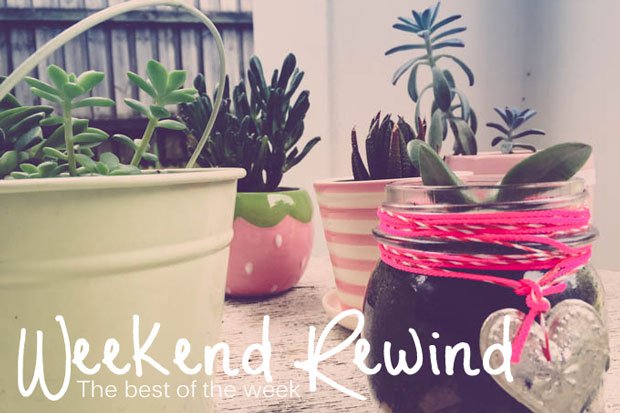 And yay, since it's Friday it's Weekend Rewind time again. Bron is still on holidays, Sonia is unwell, so it's just myself and Sonia rewinding today! 
Bloggers, why don't you link up your favourite post from the week just gone (it doesn't matter which of us you link up at, your post will be visible on all of our sites). Readers, why not check out some awesome blogs you may not have come across before.