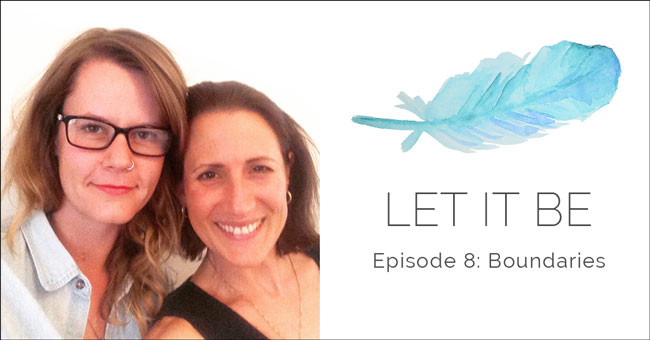 One of the biggest impediments to creating an intentional life is boundaries – or rather, the lack of them.
When we lack boundaries there is a lot of 'bleed'. Work bleeds into family time. Social media bleeds into friend time.
We also find ourselves saying yes to things we don't really want to do, we procrastinate, lose time and get frustrated.
Today Brooke and I talk about why adults find it hard to set boundaries for themselves. We also share some of the boundaries we've created for ourselves, and how those boundaries make life better. At the end of the show I share a really simple three step process for setting and implementing boundaries.
As always, we'd love to hear your thoughts about the show so after you've had a listen, why not continue the conversation in the comments below 🙂
Not sure how to listen in to these podcasts?
If you have an iPhone – the easiest thing to do is open up the Podcasts app (which is on all iPhones) and search for 'Let it Be'. When it comes up, simply subscribe. Once you're subscribed, all our episodes will automatically download on to your phone (and we will love you to the moon and back).
If you're on your computer, the direct link to our show in iTunes is here. Once you've subscribed in iTunes, it will download our episodes into your iTunes and you can then add them to whichever iDevice you like from there.
And if all else fails, you can listen to the show directly via the player below 🙂