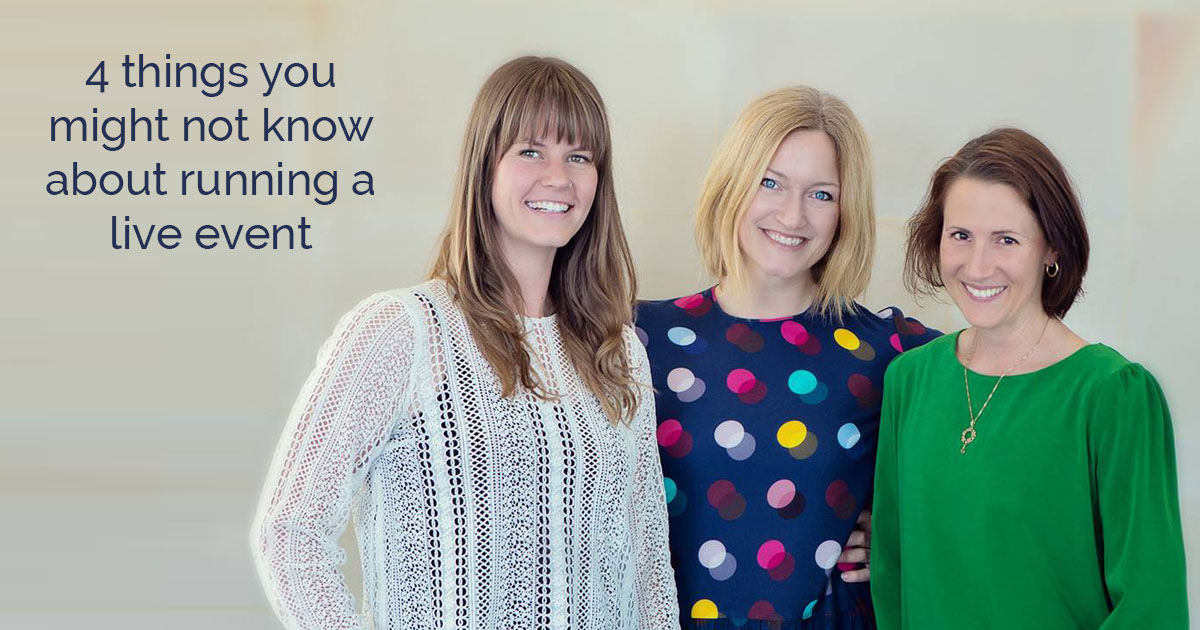 So here we are – Brooke, Alexx and I – 10 days out from A Simpler Way Sydney.
If ticket sales stay where they are, each of us will be significantly of out pocket for the event.
Ticket sales won't stay where they are, however. We know that. And certainly, if our Perth event was anything to go by, we'll sell more tickets in the last two days before the event than we have in the past 30 days.
So, we're not panicking. Yet.
But it's still pretty stressful.
After chatting with other people who are either currently running events, or have run events for their communities, some common misconceptions have emerged. I thought it was worth sharing them with you today should you ever want to run an event of your own … or if you're one of those people who always waits till the very last second to buy their ticket.
1. The venue cost is the smallest cost of the event
From the outside looking in, it's easy to look at the venue selected for an event and think 'Ooh la la, if the event is there, these guys must have some serious cash!'. Or 'Hmm, if they didn't choose to have the event at Venue X, then ticket prices could have been cheaper.'
The reality is, the venue/room hire cost is always relatively small. It's the audio visual (AV) and catering costs that get you. AV includes projectors, microphones, screens, sound, someone on hand to deal with tech issues and often the stage setup as well. As for catering, even for an event where you're only providing afternoon tea (like ours) – the catering costs are significant.
2. You pay the venue and AV costs up front, well in advance
Why do all event organisers offer an early bird ticket price miles out from the event? It's because they pay the venue, catering and AV around a month in advance. Once paid, a large portion of those costs are non-refundable. This means cancelling an event due to low numbers is not usually an option. If you cancel – you're well out of pocket. If you run the event – you're slightly less out of pocket. So, you run it.
3. Breaking even on an event is hard
Big or small, a startling number of events struggle to break even (much less make a profit). Those that do are usually run by companies where all they do is events, or those that have managed to attract significant sponsorship.
Sponsorship is a double-edged sword, however; event sponsors now want a lot more for their dollar. This means event organisers, in addition to being responsible for all the logistics of the event, also spend a large chunk of time servicing the sponsors. Which means that even if the event breaks even/turns a profit, when you factor in the time the organiser spent on the event, they discover they've been working for $5/hour.
Contrast this with me being invited to speak at an event. My speaking fee is $1500 + travel costs. While I do spend a solid amount of time compiling my presentation and then practising it. And while being away for an event does impact my family and involve a fair bit of logistics on my part … it's still MUCH easier, and more lucrative, to speak at other people's events than run your own!
Bottom line, the next time you're tempted to look at the ticket price of an event, multiply it by the number of people in attendance, and assume the organisers are making out like bandits (I will put my hand up and say 'I've done this!') … think again!
4. Yet, people continue to run events
Why? Because nothing beats being in the same room as 'your people' and being able to chat with them face-to-face. When Brooke, Alexx and I did A Simpler Way in Perth, the vibe in the room was extraordinary – we were high on it for days after. Also, it was just a treat to see each other and work together in a meaningful way.
And that high does tend to wipe away the stress of the week before when you were wondering if you were going to be up for several thousands of dollars if ticket sales didn't get moving. (Much like the arrival of a baby wipes out the pain of childbirth.)
Take home message
What's the point of this post? Mainly to educate people.
I've spoken to many people in recent months who are running small events like ours. Most have lost money on their event, or barely broken even and are bit embarrassed about it. I want those people to know they're not alone. In fact, they are probably in the majority.
I also wanted to give a heads up to event attendees in general. If you know you're going to be attending an event, and you have the means, grab your ticket sooner rather than later.
I can't speak for other event organisers, but I can speak for myself, Brooke and Alexx. The combined stresses of the weeks leading into the Sydney and Perth events, and the need to hammer our respective networks with event promo posts in the week leading into those events – it makes it very unlikely we'll run this event in any other cities.
We're all advocates of a simpler life … and unfortunately, event running is very much at odds with that!