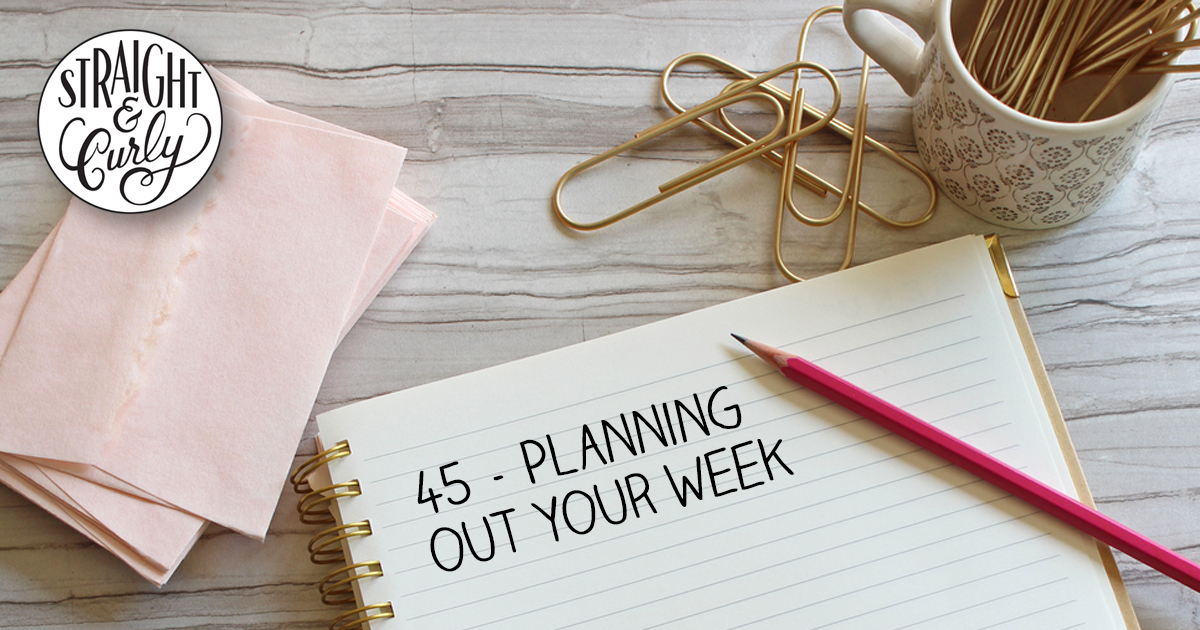 Vanessa from our Straight and Curly group on Facebook asked:
I was wondering if you could do an ep on planning out your week? I usually try to sit down over the weekend to work out what's on for the week ahead: work, husband's shifts, kid things, appointments; and then meal plan and work out what else needs to be done in and around that. Just wondering if you have any good tips or if anyone else has ideas on streamlining it. I always achieve a whole lot more when I do it!
Do Carly and I have ideas about planning? Um, yeah 🙂
Some of the things we cover in this ep:
Meal planning/ordering the shopping online to be delivered in time for the weekend
Kelly's 'two-pad system' for organising her life
Changing the way you think about yourself
Schedule rather than make to-do lists
Make sure you and your partner are a good team
Do home admin on Sundays (or whatever day – just do it at the same time each week)
Plan for your life, not other people's
Exercise on Sundays
Give your week a theme or focus
Use Sunday to plan your week
Want to come talk about it? Join our Straight and Curly group on Facebook? It's free so what are you waiting for?!
Not sure how to listen in to these podcasts?
If you have an iPhone – the easiest thing to do is open up the Podcasts app (which is on all iPhones) and search for 'Straight and Curly'. When it comes up, simply subscribe. Once you're subscribed, all our episodes will automatically download to your phone (and we will love you to the moon and back).
If you're on your computer, the direct link to our show in iTunes is here. Once you've subscribed in iTunes, it will download our episodes into your iTunes and you can then add them to whichever iDevice you like from there.
And if all else fails, you can listen to the show directly via the player below 🙂