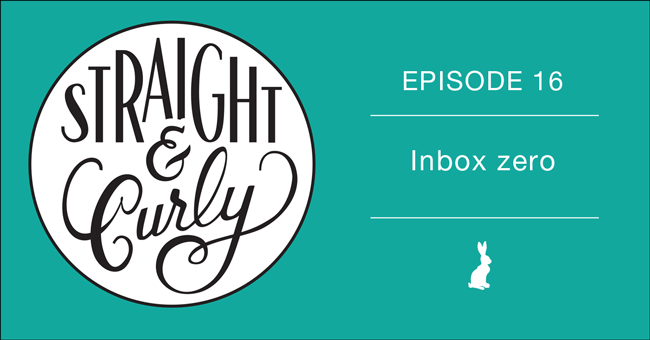 Is there a more coveted productivity #squadgoal than Inbox Zero? I certainly can't think of one. Yet it's so bloody hard to achieve.
And really, is it even something worth aiming for?
Well Carly tries to hit Inbox Zero at the end of each week while I take a more relaxed approach to it all. In this episode we share our approaches to keeping our inboxes tidy (if they can't be at zero) along with some tips for clearing out your inbox when it contains 60,000 unread emails (<< I don't understand you people).
Things we mention in this episode:
Slack (can't believe these guys aren't sponsoring us yet – we talk about them so much!)
Gabby Tozer's great book The Intern (which has nothing to do with Inbox Zero bar the fact that Gab often tweets us looking for inbox help!).
Not sure how to listen in to these podcasts?
If you have an iPhone – the easiest thing to do is open up the Podcasts app (which is on all iPhones) and search for 'Straight and Curly'. When it comes up, simply subscribe. Once you're subscribed, all our episodes will automatically download on to your phone (and we will love you to the moon and back).
If you're on your computer, the direct link to our show in iTunes is here. Once you've subscribed in iTunes, it will download our episodes into your iTunes and you can then add them to whichever iDevice you like from there.
And if all else fails, you can listen to the show directly via the player below 🙂