This week Lila Wolff wrote a super-interesting post titled The pressure to perform and bitterness which (I believe) was inspired by Pip Lincolne's post on The Like Cycle. Both women were commenting on authenticity, the 'cult of personality' and how the online world makes it very easy to blur the line between perception and reality.
I shared these thoughts in the comments of Lila's post:
"It's a very funny old world this online one we operate it. Lots of false perceptions – some created by the follower, some created by the followee … and a lot of grey in between."
And then, right on cue, an example of that greyness appeared in my life the very next day.
On Wednesday I shared about the disaster that happened to my family business last week. And from some conversations I've had since, it appears quite a few people went away from that post thinking 'far out, that's a terrible thing to happen to Kelly and her husband, but it looks like all is well now. Yay for them.'
Perception.
The reality of the situation? I spent most of Wednesday breathe BREATHE breathing through several panic attacks. The. Entire. Day. I barely slept Wednesday night.
The fallout from what happened last week (something that was not our fault in any way) isn't going away any time soon and is affecting our family and our businesses in a very major way.
Should my interactions with the world (social media, blog, conversations with family, friends, acquaintances) reflect this reality? And if they don't, if I choose to instead focus on and share the positives of the situation (which admittedly are few and far between at the moment!) here on my blog, am I being inauthentic? Dishonest even?
Or it is totally authentic because it's my nature to find the positive I can in any shitty situation?
This whole 'what even is authentic' thing is something I think about frequently because I'm acutely aware that, (like all bloggers), while I share about my life, I can't share everything. But I can't caveat everything either. So it's often left to the reader to fill in the blanks. And how those blanks are filled in depends on: the reader's situation, how much they like me, and how long they've been reading my blog. This is what leads to the shades of grey I mentioned in my comment on Lila's post. This is what leads to the gap between perception and reality.
And I hate that gap because, yes, some people do leverage it to their benefit, but for the most part, it seems to put people (Em and Cherie are recent examples that come to mind) in a position where they have to publicly address (quite nasty) misconceptions about themselves.
At this point it becomes clear that 'authenticity' is no shield against nasty misconceptions because Em and Cherie are two of the most authentic, heart-on-their-sleeve, people I know.
Then situations like this arise and (it seems) increases the onus on all bloggers to be 'honest' and 'authentic' and 'real'.
But what even is real? Who knows.
Ultimately, I think readers (and keep in mind I am as much a reader as I am a blogger) need to be be a bit more discerning.
If someone's life seems unbelievably perfect, it's common sense to understand that it's probably not. And the nice thing to do is to not judge them for portraying their life as perfect – simply understand if they're doing so, there's probably a good reason for it and either you enjoy reading their blog or you don't. Similarly, if everyone's jumping on a bandwagon to bag someone out (like say, Pete Evans – who I personally am neither here nor there on) … it's common sense to understand the base motivations of those driving the bandwagon before jumping on yourself.
More stuff to ponder this weekend …
Here are this links I deem worthy of your attention this week!
Confused about consent? It's all about the tea.
Something I've learned about life, it's seldom more awesome after achieving 'the goal'.
Truth from Liz Gilbert on 'saying no':
For years, I never said the word NO.
I never said it, because I was afraid.
I was afraid that if I said NO to people, they would be disappointed, and they wouldn't like me as much.
But do you know what happened when I finally started saying NO to people?
PEOPLE WERE REALLY DISAPPOINTED AND THEY DIDN'T LIKE ME AS MUCH!!!!
Did you miss this one in all the kerfuffle of my blog being lost forever? Please go read it, because I'm quite proud of it!
---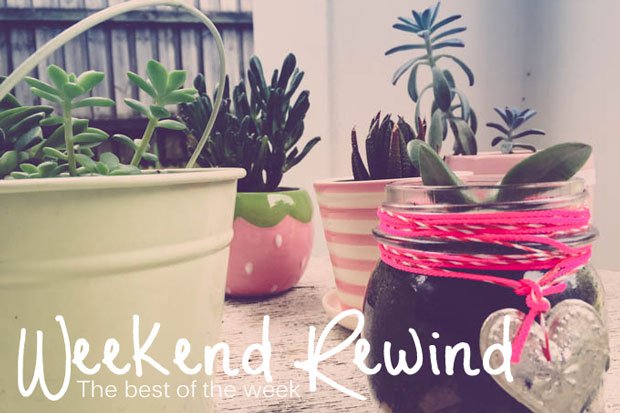 And yay, it's Friday so it's Weekend Rewind time with Bron, Sonia, and Sonia.
Bloggers, why don't you link up your favourite post from the week just gone (it doesn't matter which of us you link up at, your post will be visible on all of our sites). Readers, why not check out some awesome blogs you may not have come across before.
Meanwhile, this week's super cool guest Rewinder should need zero introduction given I link to her pretty much every week.
It's Carly from Smaggle!
Carly is the founding editor of Smaggle which launched in 2007 back when blogging was weird. She has appeared in The Sydney Morning Herald, The Age, Cosmopolitan, Cleo and Vogue magazines. Hoop earrings are totally her thing and she once had a really awkward conversation with Guy Pearce in Paris.  

{FYI Carly is also currently hooking up with great friend Christine from Hair Romance to bring Melbourne bloggers the Little Big Blog workshop. Carly and Chris are two of the loveliest and most switched on ladies in the Aussie blogosphere and if I was in Melbourne, I'd totally be going along to soak up some of their wisdom.}